The best luxury markets in Tuscany: a guide
Tuscany is full of markets – traditional, organic, weekly, flea… – and you can find online hundreds of list with date and times where to find them. But if you are looking for something special, where to buy luxury clothes, the best food or unique pieces of art, we have what you are looking for: a list of our favorite 5 stars Tuscany markets.
Forte Dei Marmi – Luxury Clothes & Handicraft
Don't call it "market": the most glamorous shopping, with the best of Made in Italy and luxury handicraft and clothing, is in Forte Dei Marmi, the international élite destination of the Tuscan coast.
Famous for refined sheets and towels and for the very well-know cashmere, this is the most fashionable market in Tuscany and it is absolutely a must do if you are in Versilia on Wednesday morning!
Mercato Nuovo, Florence – Leather
We know, the most famous Florence market is San Lorenzo, no doubts about it. Today, however, we won't put it in our list: our favorite market in Florence is in fact the "Mercato Nuovo" (New Market), also known as the Straw Market or Mercato del Porcellino (little pig).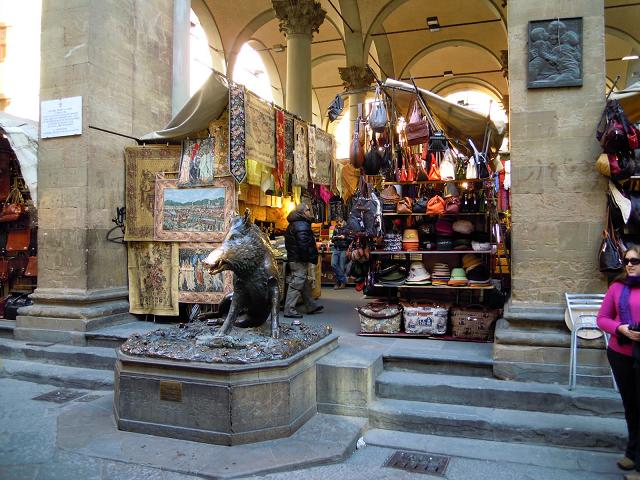 A few steps away from Piazza della Signoria, this Tuscan market dated back to the XI century – perfect to shop leather goods – owns its name to a small fountain with a statue of a wild boar: legend says that if you place a coin in the mouth of the boar and rubs his snout, you will be guaranteed with good luck and a new visit to Florence. It's worth a visit, don't it?
Antique Market, Arezzo – Antiquities
The extraordinary Piazza San Francesco is the unique background of one unmissable Tuscan market, a real paradise for antiquites seekers and collectors. Since 1968, the first Sunday of every month and the Saturday before 500 exhibitors from all over Italy and about 100 little shops meet for a two days exposition that welcomes more than 20.000 visitor every month. From the more classic antique furniture to selected pieces and expositors, here you will find a very diverse offer that will meet the needs of every art lover or collector.
Vettovaglie Market – Food
Foodies, this is the market in Tuscany you should not miss. Located in a stunning 19th-century neoclassical building, it is one of the largest indoor market, with more than 200 stalls – arranged in rows and pavilions – where you can find delicious local products, but the real treasure is the fish market, where you can find the best fish freshly catch from the near port. Be sure not to leave without trying the delicious cacciucco (seafood soup): you will thank us!