Cooking classes in Tuscany: our selection
Tuscan food is an amazing experience for the palate and a real journey into taste. From "poor" dishes to refined gourmet course, the flavors of Tuscan kitchen are unique and unmissable.
So, why don't you learn to cook it yourself? We have found for you the best Tuscan food classes offered by our collection of charming hotels in Tuscany: profit of your holiday to discover how to prepare the wonderful recipes of Tuscan tradition, choosing one of this surprising cooking classes in Tuscany.
Borgo Cooking School
Surrounded by an organic farm of 110 hectares, the cooking school you will find at Borgo Santo Pietro is far more than just "a class": here, you can choose between nine different courses (pasta, pizza, fish, chocolate, vegetarian…) that will teach you how to cook in a perfect Tuscan style.
The best part? You can collect yourself from the garden and the farm the freshest ingredients with which to prepare your perfect Tuscan menu.

Cooking in Tuscany classes at Borgo Pignano
In this  luxury resort near San Gimignano and Volterra, the Tuscan cooking classes focus on dough-making, of course in the most traditional style.
The chef Vincenzo Martella will teach you how to prepare an handmade healthy and delicious dough from the local biological flour and how to create pizzas, fresh pasta and focaccia, or as we say in Tuscany "schiacciata".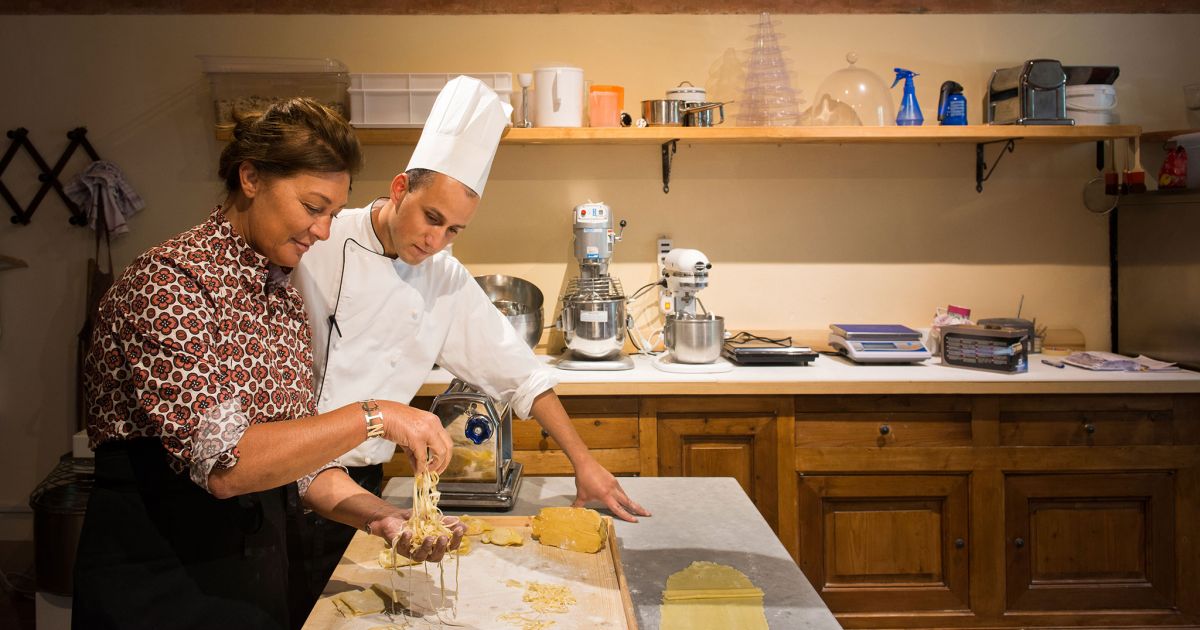 Michelin-starred Tuscan cooking class at Castello del Nero
At Castello del Nero, you will learn how to cook alongside Michelin-starred chef Giovanni Luca Di Pirro in an unmissable Tuscany cooking class in which you will learn to prepare traditional italian dishes as tagliatelle and tiramisu that you will eat together with your classmates at the end of the lesson.
If you don't feel to cook, don't worry: why don't you try the cocktails making class with hotel's Head Mixologist or, for a sweeter lesson, the Gelato Class held by master ice cream maker, Sergio Dondoli in its historic Gelato Shop in San Gimignano?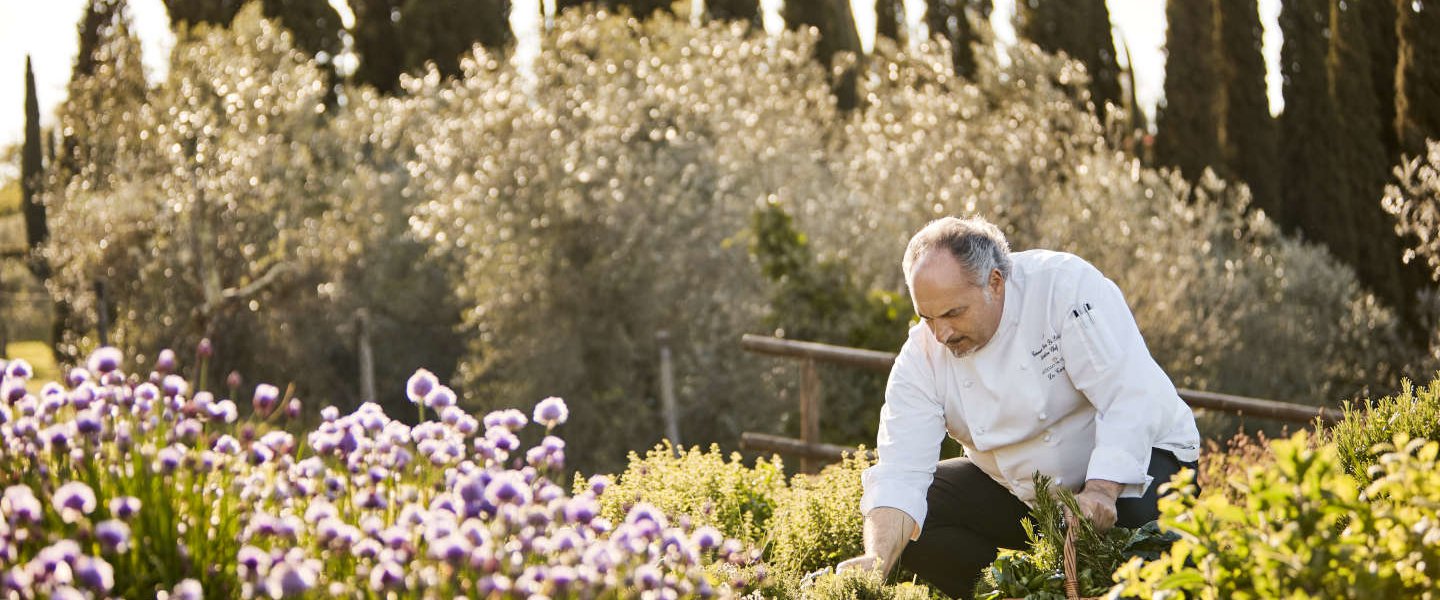 Chef for a day at Castello Banfi – Il borgo
A four-hour class among the Banfi vineyards that will teach you cook, present (and eat, together with a local glass of wine!) a traditional Tuscan four-course meal, from the entrée to the dessert through a delicious pasta and a main course with fish or meat.
You can have a sneak peek of the Tuscan food class at Castello Banfi – Il borgo in this video: we already are mouthwatering! Don't you?
In this relais near Siena, you will learn the bases of Tuscan kitchen, discovering how to prepare a traditional meal and focusing on how to recreate what you just learnt at home. In small groups, you will cook an entire meal with fresh ingredients cultivated in the Medieval-style organic garden next to the hotel and meat and cheeses from the area.
At the end of the class, each "cook" will have a Tuscan recipes book with tips and tricks to bring home, together with the happy memories of a unique and authentic experience.
Cooking Tuscan "ragout" at Laticastelli
One of the most short yet complete cooking classes in Tuscany, the lesson at Laticastelli focuses on a theoretical part about the main characteristics of Tuscan kitchen's tradition and its peculiarities and one practical course in which you will have to dirt your hands to prepare an entrée, a fresh handmade pasta, the classic "Tuscan ragout", with meat of vegetarian, and – of course – a dessert.
Only one hour and half, to learn how to prepare a real Tuscan meal and to be ready to taste it with a glass of Laticastelli wine.