The best hotels for a yoga retreat in Tuscany
Torn between a wellness escape, a foodie vacation in the countryside or a cultural getaway at the discover of art cities? You're lucky: in Tuscany you don't have to choose.
We have found for you the best hotel for a Yoga retreat in Tuscany, to help you organize your meditation holiday and meet your inner spiritual side between a glass of wine, a delicious pasta and a sightseeing.
Grotta Giusti
Have you ever done Yoga inside a thermal cave? If the answer is no (and we guess it will be), take note of this address. Only at Grotta Giusti Resort you can experience the excitement of practicing your asanas among the vapors of an exceptional environment such as the underground cave winner of the World Best SPA Award 2018. Recommended in particular to Hot Yoga fans, the "Thermal Yoga in Grotta"is an experience to try for all yogis for which the traditional mat is not enough. A hundred meters under the ground, where the temperature is higher and the vapors heat up body and soul, you can experiment a unique and unforgettable practice.
Where: Monsummano Terme, Pistoia
See the hotel on our website: Grotta Giusti
Il Borghino
Yogi and Yogini who can not give up the practice even for the time of a holiday, this is your place. "Il Borghino" Estate, a few kilometers from Lucca, has made Yoga Retreat its core. In collaboration with the association Yoga in Italy, it offers to its four villas guests the opportunity to practice in different places and moments throughout the day. From "Morning Meditation" to "Afternoon Restorative Yoga", asana lovers will find unique spaces for their practices, such as the Outdoor Yoga Deck, overlooking the beautiful Lucca and its walls, or Yoga By The Pool. If it rains, do not worry: the inside room has nothing to envy. Have you ever practiced yoga in a room whose windows look directly into a swimming pool? We bet no!
Where:Lucca
Website: Il Borghino
Curious? Take a look at the beautiful Outdoor Yoga Deck in this video!
Castel Monastero
Castel Monastero Resort offers a real exclusive "Meditation and Yoga" package, which really has everything you need for a holiday dedicated to psychophysical wellness. In addition to daily Yoga classes, in fact, guests can access the "wellness water" path with Finnish sauna, biosauna, Hammam, pool with whirlpools with a toning effect, swimming pool with high salt density and relaxing draining effect, Kneipp path, emotional showers with chromotherapy and natural essences.
Here, is it possible to practice not only in the traditional styles, but also the Antigravity Yoga: the asanas are carried out in suspension thanks to a fabric hammock, which is at the same time a support and a challenge. Are you ready to fly?
Where: Castelnuovo Berardenga, Siena
See the hotel on our website: Castel Monastero
Borgo Pignano
A few kilometers from Volterra, one of the most beautiful villages in Italy with a thousand-year history, Borgo Pignano offers a luxury yoga retreat.
Here, you can choose between private or group lessons and, if available, participate in yoga retreat conducted directly by other guests. Classes take place in the internal hall, in the large open-air room of the "La Fonte" farmhouse or directly outside, on the lawned terrace overlooking the Tuscan countryside.
In addition to Yoga, it is possible to organize sessions of QiGong, the Chinese discipline that helps keep body and soul in shape.
Where: Pignano, Volterra (PI)
Website: Borgo Pignano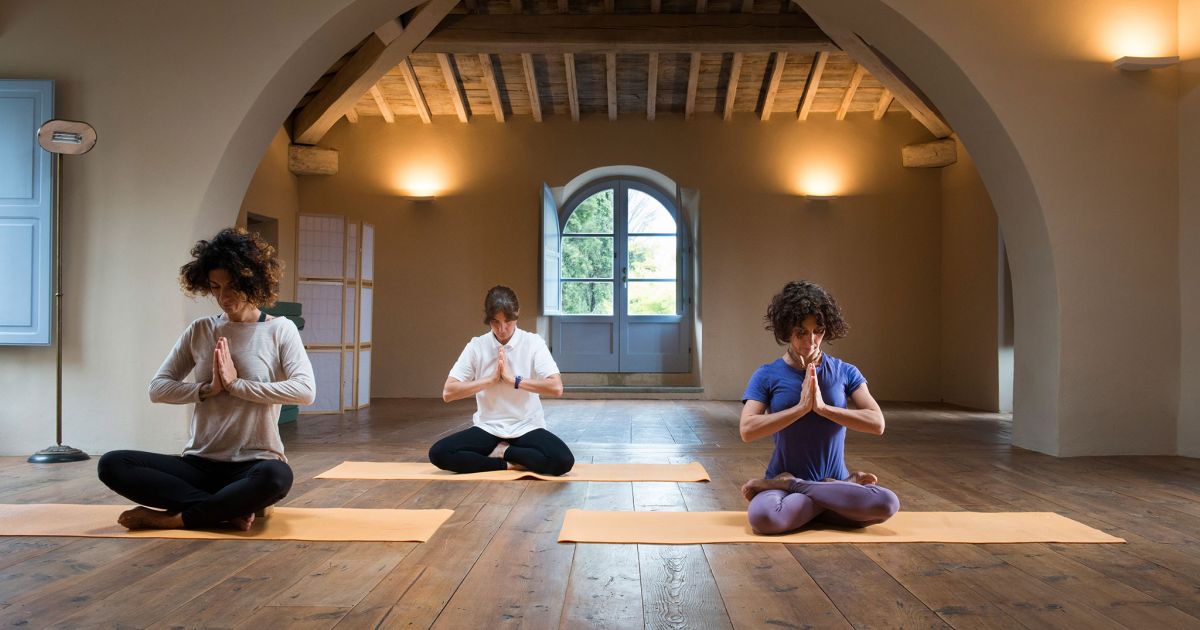 Castelfalfi
At the village of Castelfalfi a Tuscan style holiday is combined with the search for balance of body and mind. The Yoga classes take place at different times of the day, individually or in groups: whether you are an expert yogi and yogini or it is your first times on the mat, the teacher will guide you in an energising practice in contact with nature, perfect for add an extra regenerating touch to your stay in Tuscany!
Where: Montaione, Firenze
See the hotel on our website: Castelfalfi
Bonus tip!
Are you looking for a real escape from the daily routine and a total immersion in Yoga and meditation? In Tuscany, yoga retreats are numerous throughout the year and offer solutions for all tastes. There are numerous portals where you can find the retreats scheduled, we especially recommend Yoga in Tuscany, Yoga in Italy and Tuscan Yoga Retreats.