Skiing in Tuscany: a guide to the best ski areas of the Tuscan Apennine
Who doesn't know the gentle hills of Chianti, the extraordinary historical cities or the golden coasts of the Tyrrhenian Sea? Tuscany and its wonders are famous all over the world, yet there is one side of this region that has remained hidden.
Still unknown to mass tourism, the enchanting mountains of the Tuscan Apennines are the ideal destination for a winter holiday on the snow and a real paradise for all ski lovers.
Yes: skiing in Tuscany is a thing, and it's an experience you should absolutely try. We have collected for you the best ski areas of the Tuscan mountains, to help you discover Tuscany from a new perspective.
Abetone and Val di Luce: skiing in Tuscany at its top
50 km of slopes twisting and turning through the woods, more than 20 ski lifts linking four enchanted valleys, an expanse of soft and white snow. Pistoia Apennines is the largest ski area in Tuscany and a heaven on earth for all winter sports lovers.
Snow Park, cross country, freeride, reckless descents down the most difficult slopes designed by the ski champion Zeno Colò. Whatever your favourite activity is, here you will not be disappointed.
This ski area is also home of Val di Luce SPA Resort, an amazing hotel with an incredible Crystal pool. We can't think of anything better than relaxing in a warm pool under the stars after a hard day on the snow.
Where: Abetone, Pistoia
When: From 1 December 2018 to 7 April 2019
Website: Abetone
Webcam: Webcam Abetone
Skiing on a dormant volcano: the Mount Amiata
Imagine being on top of a mountain, skis on your feet, and see the sea. Impossible? Not in Tuscany. In the Mount Amiata ski area you can spot the sparkle of the Tyrrhenian sea above the horizon behind the firs and the snow.
Even if  it's not the biggest of Tuscany, this area has a surprising offer of activities for snow lovers.
Here, you can find:
10,5 km of Nordic Ski slopes
The Marsiliana – Macinaie ring for cross country skiing, who winds in the biggest Italian beech forest
10 km of ski slopes
Day and night snowshoes excursions
A snowpark
The longest Snow Tubby path of Europe
Do you need another reason to come skiing here? This mountain is an ancient dormant volcano who gives life to thermal springs known since the Etruscan age.
Where: Monte Amiata, Siena
When: From 22 December 2018 to 31st March 2019
Website: Amiata Neve
Webcam: Webcam Monte Amiata
Skiing with a view: the Apuan Alps
There is a reason why these marble mountains of the Apennines have earned the name "Alps". Their sharp peaks with steep slopes rise up to almost 2,000 meters, despite the Tyrrhenian coast only a few kilometers away.
Here, the question "where to ski in Tuscany?" finds more than one answer. Careggine plateau, Passo delle Radici or Casone di Profecchia: whatever your choice is, a day on Apuane's snow will be a unique experience.
If you are a ski mountaineering person this is your place: your reward for reaching the top will be a breathtaking view of the sea. Can you imagine something more amazing?
Where: Alpi Apuane, Massa e Carrara
When: From 8 December 2018 to 31st March 2019
Website: Zum Zeri Passo dei Due Santi
Webcam: Webcam Zum Zeri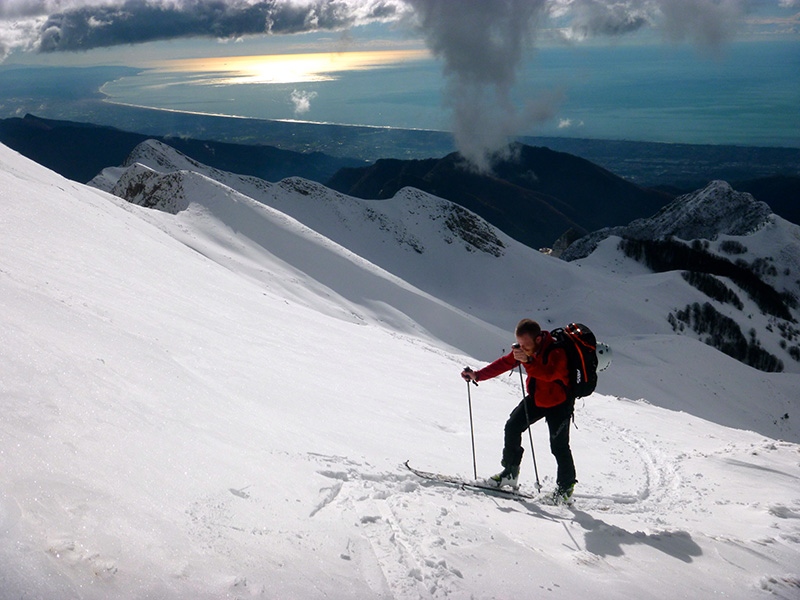 Photo credits sea view ski mounteneering pictures: Giampaolo Betta
Photo credits Apuan Alps landscape: Roberto Bergamini